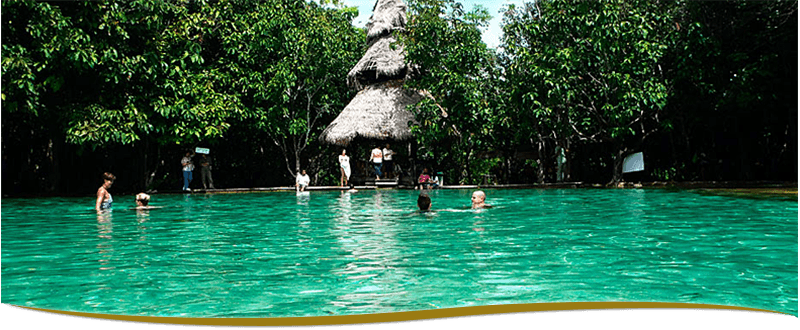 Emerald Pool
Emerald pool or 'Sra Morakot' in Thai is a truly wonderful natural pool in the middle of the forest filled with glistening clear spring water. The Emerald Pool is situated in Khao Pra - Bang Khram Wildlife Sanctuary, locally called Khao Nor Chuchi Lowland Forest at Ban Bang Tieo, 18 kms along the public road No. 4038 from the district office of Klong Thom.
Upon arrival, most visitors can't wait to leap into the clear emerald green fresh water of the pool and enjoy a refreshing swim.
Sra Morakot is almost a round pool about 1-2 meters deep and 20-25 meters in diameter. The color of water changes into pale green or emerald upon the reflections of the sunlight.
The water of Sra Morakot comes from the spring-fed pool known as "the Blue Pool", 600 meters away on the hill. Sulfurous, alkaline water from the Blue Pool wells up and flows through cracks in the rocks to cascade down to Emerald Pool. Consequently, the water is always clear because of the high calcium carbonate that makes all the suspended particles settle to the bottom. In addition, algae cannot grow in the water.
A Balinese-style thatched cottage was built and was exclusively reserved for the Royal Family visits years ago.